Jacinda Ardern to guest edit New Zealand newspaper on anniversary of suffrage

Jacinda Ardern Jacinda Ardern to guest edit New Zealand newspaper on anniversary of suffrage
The edition marks the 125th anniversary of women getting the vote in New Zealand, the first country to grant women's suffrage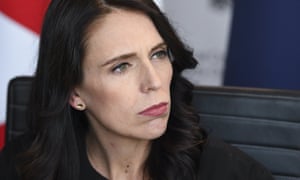 Jacinda Ardern will guest edit the country's largest daily newspaper on Wednesday as New Zealand marks 125 years since becoming the first nation in the world to give women the vote.
The New Zealand prime minister said it was a "huge honour" to be asked to edit the 125th Suffrage anniversary edition of the New Zealand Herald.
"It's an assignment I'm approaching with a great sense of responsibility," she told the newspaper.
Jacinda Ardern under pressure after minister resigns amid email scandal Read more
Ardern said that to "try and summarise 125 years of women's experience in one issue of the newspaper is an impossible task". She has commissioned several pieces for the edition and written a personal essay.
She said the edition would cover "where we've been, where we are right now, and where we're going".
A live broadcast from the New Zealand Herald newsroom will air tonight from 7pm to 8.30pm, to show the prime minister finishing work on the edition.
The country is marking the occasion in various ways â€" with a vast number of exhibitions and special projects dedicated to the event.
In 1893, New Zealand suffragists gathered the signatures of nearly 32,000 women to demonstrate the breadth of support for their cause. Despite opposition, the legislation allowing women to vote was passed by both houses of parliament and became law on 19 September.
The news sent shockwaves throughout New Zealand and went on to inspire suffrage movements around the world. In 1902, Australia followed suit, however Indigenous men and women were forced to wait until 1962 before they were allowed to vote in federal elections.
The newspaper handed over the guest editor role various times in its history, including to former All Black and depression awareness advocate John Kirwan and actor and activist Lucy Lawless.
Right wing blogger David Farrar was sceptical of Ardern's role at the newspaper, which is perceived to be left-leaning, saying having her as editor "cut out" the middle man.
Topics
N ew Zealand
Asia Pacific
Women
Gender
Newspapers
news
Share on Facebook
Share on Twitter
Share via Email
Share on LinkedIn
Share on Pinterest
Share on Google+
Share on WhatsApp
Share on Messenger
Source:
Google News New Zealand
|
Netizen 24 New Zealand