British woman dies in New Zealand car crash

Gloucestershire Gloucestershire British woman dies in New Zealand car crash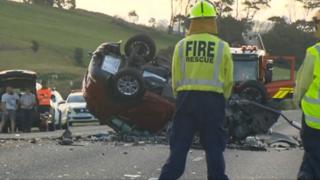 A British woman has been killed in a car crash in New Zealand.
Kerry Sargent, 42, from Gloucester, died in the collision between two cars near the city of Whangarei on Saturday.
A woman from Auckland also died in the crash. Police said the women were both front seat passengers in the two vehicles.
Two other people, including a child, were also injured in the crash which happened at 15:50 local time (03:50 BST).
The Foreign and Commonwealth Office said it was ready to offer consular support "should the family make contact".
The BBC is not responsible for the content of external Internet sites
Gloucestershire live reporting
Live BBC local live: West of England
Full article BBC local live: West of England
Top Stories
Saudis now admit journalist was murd ered
A senior minister blames a "rogue operation" as pressure mounts over the death of Jamal Khashoggi.
22 October 2018
World's longest sea bridge - in pics
22 October 2018
Man who halted Nazi nuclear plan dies at 99
22 October 2018
Features
The Republican who changed his mind over guns
Video
Celebrations and sickness - on the road with migrants in Mexico
Video
Is Russia still meddling in US elections?
Video
Can a girl from the Bronx be a K-pop star?
Five things to know for the week ahead
Who will help rebuild the former 'capital' of IS?
The £1.3bn finance firm that was conceived in a pub
Video
The man who can't stop painting
'I make my money from Bitcoin and tasty roast meat'
Elsewhere on the BBC
Football phrases
15 sayings from around the world
Full article Football phrases Why you can trust BBC News
BBC News Services
On your mobile
On your connected tv
Get news alerts
Contact BBC News
Source:
Google News New Zealand
|
Netizen 24 New Zealand