Meghan Markle applauded for speaking Māori in New Zealand suffrage speech

Duchess of Sussex Meghan Markle applauded for speaking Māori in New Zealand suffrage speech
Duchess of Sussex incorporated the te reo Māori language into her address in Wellington, praising the nation for its role in spreading gender equity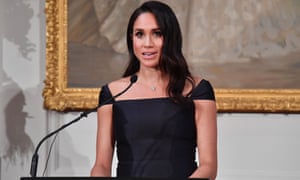 The Duchess of Sussex has charmed New Zealanders by speaking in te reo Māori, the language of New Zealand's indigenous people, during her first speech in the count ry.
The duchess gave a passionate speech about women's suffrage at Government House in Wellington on Sunday.
New Zealand was the first country in the world to give women the right to vote, and is led by a female prime minister, Jacinda Ardern, the nation's third female leader.
Bearing a baby and banana bread, Harry and Meghan enchant Australia Read more
After welcoming the assembled dignitaries, Meghan offered a formal greeting in te reo Māori. Her efforts earned her spontaneous applause and whoops from the audience.
"TÄ"nā koutou katoa [greetings to all]", she said, smiling.
Although her pronunciation was not perfect Meghan's efforts were warmly received by New Zealanders, who themselves are learning the language in record high numbers. Local news reports on the Duchess's speech highlighted her use of te reo, while the opposition leader, Simon Bridges, described the couple as "charming" and "down to earth".
On Twitter "Meghan" featured high on the list of trending topics â€" just below the local version of Married at First Sight.
The duchess went on to praise New Zealand for granting women the right to vote 125 years ago, and said the small country had become a world leader in gender equity. "Feminism is about fairness," she said. "So bravo New Zealand for championing this right 125 years ago … we all deeply thank you."
She also read a quote from the Liverpool suffragette Kate Sheppard, who relocated to New Zealand in her 20s and appears on the $10 bank note.
"All that separates, whether of race, class, creed or sex is inhuman and must be overcome," the duchess quoted.
Earlier in the day, the royal couple took part in a series of traditional Māori greetings, including a hongi with Māori elders in which the couple touched noses with chiefs and shared breath, a pōwhiri [formal welcome ceremony] and watched a haka.
Are republicans allowed to be interested in Meghan Markle's pregnancy? Read more
New Zealand is the last stop on the royal couple's tour, which has taken them to Australia, Tonga and Fiji.
Their itinerary includes a bush walk in Abel Tasman national park, a beach BBQ and visits to Rotorua and Auckland. The duchess visited New Zealand in 2014 and blogged about her travels around the country in a campervan.
Prince Harry has visited the country on multiple occasions and said he enjoyed it â€" not least because the people were less prone to requesting selfies.
Topics
New Zealand
Asia Pacific
news
Share on Facebook
Share on Twitter
Share via Email
Share on LinkedIn
Share on Pinterest
Share on Google+
Share on WhatsApp
Share on Messenger
Source:
Google News New Zealand
|
Netizen 24 New Zealand