'Nerves are good': George Williams prepares for England v New Zealand

Guardian Sport Network Rugby league 'Nerves are good': George Williams prepares for England v New Zealand
The Wigan player says England have to 'lift the intensity' for their three upcoming Tests in Hull, Liverpool and Leeds
By Gavin Willacy for No Helmets Required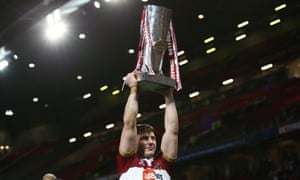 Having spent most of the World Cup last year watching England from the bench, Wigan Warriors half-back George Williams now is hoping to spearhead the team's attack against New Zealand on Saturday in the opening game of their Baskerville Shield series.
With Luke Gale and Gareth Widdop out through injury, Williams has been joined by Leeds' Richie Myler â€" recalled by his country after a six-year absence â€" as the only scrum-half options. Although Williams has enjoyed a fine season playing further from the ruck in the stand-off role, England boss Wayne Bennett has a surplus of other options there, with sometime stand-offs Jake Connor, Sam Tomkins and Jonny Lomax all in Saturday's 19-man pool. Bennett went with a Myler/Connor combination in England's comfortable 44-6 win over France last week but could pair Williams with Myler on Saturday.
Gale and Kevin Brown orchestrated a conservative England attack in the World Cu p, but Williams has put himself at the front of the queue due to his fine club form, the international retirement of Brown and Gale's injury-wrecked campaign. He will savour the experience in Hull on Saturday, having missed the Denver Test through injury.
South Sydney Rabbitohs to sign England head coach Wayne Bennett Read more
"I don't take it for granted," he says. "I could never get picked for England again. I treat it like this could be my last. Hopefully that will get the best out of me. There's some world class players in this team that are great to be around. Growing up watching these players and now being among them is quite surreal for me. Hopefully I might get 30 more caps like some of them."
Despite playing in four Grand Finals for Wigan and winning two of them, the 23-year-old admits to feeling extra pressure. "When you play against Australia or New Zealand, every one of the opposition is world class. It's a challenge. The i ntensity has to lift. It's massive: in the build-up and in the game. I'd be lying if I said you don't doubt yourself beforehand. From club to country there is definitely a gap. People say there isn't, but there is. I get nervous, but nerves are good. I like it. It makes me feel I'm going to play alright."
Connor won the man-of-the-match award on his debut against New Zealand in Denver in June and again against France last week. But Williams warns that friendlies bear little resemblance to the challenge of a Test match series. "I debuted for England at 20 with not much first-team experience behind me so I was chucked in at the deep end, but it was a friendly against France. We won about 80-nil so it was a gentle introduction. But I got dropped by the third Test against the Kiwis [in 2015] and that was a knock-back for me, one I probably needed to realise how consistent you've got to be at this level."
England can make statement against New Zea land, says James Graham Read more
The World Cup, with games against Australia and Tonga interspersed with weekends facing France, Lebanon and Papua New Guinea, could be compared to the varying schedule of Super League, while three-Test series against the Kiwis or Kangaroos is akin to the NRL finals. But England prop Chris Hill would rather the trio of tough peaks than the up and down of a tournament.
"Lads prefer a series, with three, big tough Tests one after another," says the Warrington stalwart. "You know you have to be up for a Test, 100% bang on or you'll get turned over. It works better for us. You saw when we played France or Lebanon at the World Cup, it wasn't the best but we got the result. It's the same in Super League, when we get ourselves up for a big game and then lose against someone you should beat."
Clubcall: Warrington Wolves
As many as 11 Warrington players are having to recover sharpish from th e devastation of Old Trafford to perform in internationals this weekend. Hill, Ratchford and Daryl Clark are in the England squad; George King is in Ireland with Wire reserve Pat Moran; while King's brother Toby and Joe Philbin have opted leave the Irish and join captain Jack Hughes, Harvey Livett, Tom Lineham and Dec Patton in the England Knights in Papua New Guinea. Warrington head coach Steve Price is going to have to give them some serious "me time" before dragging them back in for pre-season this winter.
What next for Wigan and Warrington after the Super League Grand Final? Read more
Foreign quota
The Kangaroos' decision to have a fairly fallow international programme the year after a World Cup looks rather attractive right now. After two games in Auckland, their stars' season was over on 20 October. Engand's will not be done until 11 November.
In the upcoming World Cup qualifiers, almost every nation will be we ll below full-strength. Jamaica and the USA have as many Super League or NRL regulars in their squads as Wales and decimated Scotland do â€" two each â€" while Ireland can call on only four. See who actually takes to the field in Carcassonne and Dublin on Saturday via the BBC's live stream.
The Euro Champs' top two can put their feet up next year, while the bottom pair will join Italy, Spain, Russia and winner of Norway v Malta in more World Cup qualifiers. The Italians are blooding a dozen young Aussies from their deep diasporic pool against Niue in a game hastily arranged for this Saturday in Sydney.
Goal-line drop-out
There was a reminder last week that an England cap counts the same whether it's earned for 80 minutes in the World Cup final against Australia or for a few minutes off the bench for a second-string against France on a Wednesday night in Leigh. Without the Grand Finalists, Wayne Bennett called in Jamie Shaul, Liam Sutclif fe, Oliver Holmes and Robbie Mulhern for surprise debuts against France last week, the night before they flew out with England Knights. They will treasure those appearances, just as Richard Whiting, who is retiring after a proud career with (among others) Hull FC and latterly Toronto, should his three England caps. Granted, they came in a 98-4 win in Russia, against Ireland and in a friendly with France, but it's three more than most of us.
Tottenham's academy is succeeding thanks to locally sourced players Read more
Fifth and last
Cynics who mock second- and third-generation players representing the lands of their forefathers should pay heed to the story of New Zealand-born Brad Austin, who will represent Canada in the World Cup qualifiers in Florida. Austin's grandma was born in Winnipeg in 1939 shortly before her fatherjoined the Queen's Own Cameron Highlanders of Canada. Like so many young Canadians, he was killed in the Dieppe battles of 1942. At the end of the war, his widow emigrated to New Zealand with her little girl, settling in Christchurch, where the family remained.
"To be given the opportunity to represent Canada is an absolute privilege," said the Halswell Hornets player. "My nana was excited to hear the news, as was the family there and in Vancouver. It was awesome to go through all the old photos with nana and discuss our heritage. I'll do everything I can to get Canada a World Cup spot in 2021."
Follow No Helmets Required on Twitter and Facebook
Topics
Rugby league
Guardian Sport Network
England rugby league team
New Zealand rugby league
Warrington
Australia rugby league
Australia sport
features
Share on Facebook
Share on Twitter
Share via Email
Share on LinkedIn
Share on Pinterest
Share on Google+
Share on WhatsApp
Share on Messenger
Source:
Google News New Zealand
|
Netizen 24 New Zealand