New Zealand Worlds Team Named After Short-Course Nationals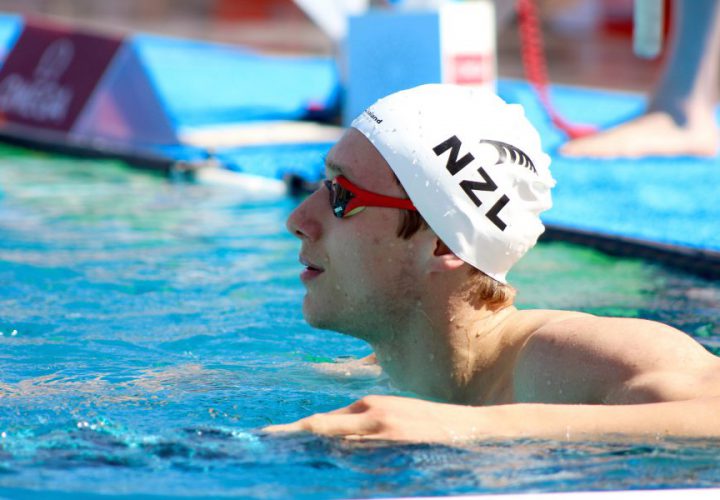 New Zealand's Bradlee Ashby. Photo Courtesy: Taylor Brien
By Dave Crampton.
Bradlee Ashby was the star at the Swimming New Zealand short-course championships, that concluded Saturday, winning his first seven of nine events, two of them in New Zealand record time.
The championships, held in Auckland, were also a qualifying meet for the world short course championships in China in December with six swimmers making FINA A cuts, with two of those electing not to be considered for selection in the 18-member team.
Also, top New Zealand swimmers, such as Commonwealth Games bronze medalist Lewis Clareburt and world championship finalist Corey Main, and most of their Commonwe alth Games teammates were not competing. This made it slightly easier for Ashby, one of the few swimmers going into the meet with a FINA A time, to win more titles. However, Andrew Jeffcoat headed him off by 0.06 in the 50m backstroke clocking 24.19.
"It's hard coming up against bigger guys like Brad who is half a meter taller than everyone else, but I'm really happy," said Jeffcoat.
"Underwater work is everything, it's 30m under water and 20m above water, so if you don't have good under water work then you get left behind."
The championships also coincided with the Australian State Team's championships in Australia's Capital, Canberra, where a team of 35 New Zealand's top teenage swimmers under 18 were competing. It also finished just before the Youth Olympics started, meaning swimmers such as Junior Pan Pacific medalist Michael Pickett,16, and top 800m Junior Pan Pacific seed Zac Reid, we re absent.
Ashby, who missed the Pan Pacific champs due to injury, won titles throughout the strokes, except breaststroke, which he didn't enter. Both his 100m IM and 200m IM times were below the FINA A standard for worlds and were also New Zealand Open records. He clocked 53:06 and 1:54.51 respectively.
"Getting back into the rhythm of things and having a schedule that really works for me has helped and it all came together tonight; I can't be more happier," Ashby said.
Olympian Emma Robinson, who, like Ashby, missed the Pan Pacific Championships, but through illness, was one of three who met FINA A times for the world short course championships in the 800m freestyle, clocking 8:27.85s.
"It was pretty tough at the 600m mark. I was hurting a bit, the goal was to build every 200," Robinson said.
The Australian-based swimmer will now turn her focus to building for the 2019 FINA World Championships, leading the way for Caitlin Deans and Hayley McIntosh to be selected for the world champs in that event. Deans, 18, also set a NAG in the 1500m, clocking 16:25.17. Robinson also swam the 400m freestyle with Commonwealth Games finalist Carina Doyle, who swam under the A standard of 4:06.81, as did Rio Olympian Helena Gasson in the 100m IM, clocking 1:00.61, just off her national record.
Ciara Smith, 17, broke a NAG in the 100m breaststroke, clocking 1:07.85, 0.5 out from the New Zealand record set by Bronagh Ryan at last year's nationals. Ryan was not swimming this year.
Smith followed that with a NAG of 2:26.51 then a 2:25.17 in the 200m breaststroke. The latter was under the 2:25.82 national open record, but before Smith even got out of the pool, it was announced that she was disqualified. Her disqualification â€" for a false start â€" was successfully appealed and her medal was presented to her the following evening after placings were rearranged based on when they touched the wall.
Vanessa Ouwehand dominated the butterfly events clocking 26.97s, 1:00.17, and 2:13.01. Yeonsu Lee clocked 1:00.28 in the 100m earning her ticket for world champs. However, Bre Crawford, 15, topped that 50m effort in a NAG record â€" and winning â€" time of 26.86, but did that at the Australian state team's championships, also faster than all but one of the 15-year-old-males in the New Zealand nationals.
Crawford also clocked 2:15.00 in the 200 IM, also faster than any female in the morning of the New Zealand champs, although Gina McCarthy,16, won the A final in a NAG record of 2:13.40.
"I was really concentrating on my turns and under water work, because they weren't very good (earlier), so it went well," McCarthy said.
Thomas Watkins, 18, broke his first three NAG re cords; two in the 200m backstroke, where he was second overall in 1:55.05, behind Ashby in another FINA A time of 1:53.03. Watkins also lowered the NAG in the 400m IM, clocking 4:16.12, down from his 4:22.94 seed time, behind Wilrich Coetzee on 4:14.70.
This was the event that both Clareburt and Ashby swam at the Commonwealth Games, but Ashby elected not to swim the 400m IM, opening the way for Coetzee to be selected in that event.
Kyla Alexander, 17, set two NAG records in the 50m backstroke, clocking 27.65 then 27.60 in the finals behind Paige Flynn on 27.49 in one of her three titles. Coetzee took out the 200m butterfly in 1:55.84, and Daniel Hunter remained the sprint king, clocking 22.31 in the 50m freestyle, and 48.64 in the 100m.
The New Zealand team for the world short course championships is: Bradlee Ashby, George Schroder, Vanessa Ouwehand, Ruby Matthews, Hayley McIntosh, Paige Fly nn, Wilrich Coetzee, Carina Doyle, Yeonsu Lee, Ciara Smith, Daniel Hunter, Matt Hyde, Andrew Jeffcoat, Quinton Hurley, Caitlin Deans, Gina McCarthy, Rebecca Moynihan, and Emma Godwin
Source:
Google News New Zealand
|
Netizen 24 New Zealand