All Blacks sprinkle caps like confetti with England and Ireland in mind

New Zealand rugby union team All Blacks sprinkle caps like confetti with England and Ireland in mind New Zealand will field a second-string side against Japan in Tokyo on Saturday as their first-choice team lands in London to prepare for tougher autumn assignments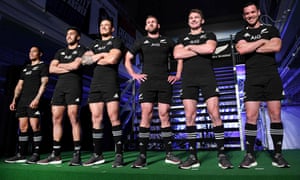 When New Zealand face Japan in Tokyo on Saturday, the All Blacks will be thousands of miles away. Dress it up any way you like but by announcing a squad to face the Brave Blossoms featuring eight rookies at almost the precise moment 23 frontline players were boarding a flight to London, Steve Hansen is handing out confetti caps.
No less than 22 of the 23-man squad who beat Australia in Yokohama last weekend, as well as Jack Goodhue, are due to land in the UK on Thursday afternoon â€" ahead of schedule to the extent they are due to touch down before England return from their warm-weather training camp in Portugal. England, of course, have South Africa to negotiate first. Kieran Read described this as a "weird week" and he is not wrong.
New Zealand's coach Steve Hansen suggests 16-week off-seasons for all Read more
Hansen explained the decision on the basis that Read, Beauden Barrett, Sonny Bill Williams et al will be afforded extra time to acclimatise before taking on England and Ireland in consecutive weeks while again taking aim at the increasingly cluttered international calend ar. "We play so many Test matches now that it's a nonsense when you hear people say they didn't give Test caps away years ago â€" they only played four or five Test matches and six or seven provincial games," he said. "Today we're playing 14 or 15 Test matches alone and you just can't ask the same people to do it all the time and play to the level that we're expecting them and asking them to play at."
All valid points but then add in the fact the All Blacks requested to extend their stay in Japan and arranged Saturday's money-spinning fixture is tantamount to having your cake and eating it. Granted Hansen's first-choice XV could pull Japan apart but if this match is to warrant Test status it was incumbent on the head coach to sprinkle at least a few star names among his selection. Alas, second-string sides playing Test matches is a trend we are only going to see more of, while Hansen's decision to do so now also demonstrates an awareness of the challen ges around the corner for a side that wobbled towards the end of the Rugby Championship.
The sternest challenge, as Barrett acknowledged last weekend, will come in Dublin and if Joe Schmidt's side need any extra motivation they should listen to Hansen's ill-judged attempt at an Irish accent when responding to a perfectly legitimate question about Conor Murray â€" tone deaf in more ways than one.
On the other hand, perhaps his shrewdest comment of late came when seemingly stating the obvious: "Australia played differently to what we're going to be playing in the next couple of weeks." Because, for all that Barrett sparkled, the truth is that these two fixtures in Japan cannot be considered an accurate signpost for New Zealand's autumn schedule, certainly not as much as recent home and away matches against South Africa.
Ireland v All Blacks is pick of autumn feast with strong World Cup flavour | The Breakdown Read more
We are well past the tired old cliches that England and Ireland will favour nine-man, up the jumper rugby against the all singing, all dancing All Blacks and just as Lionel Messi most probably could do it on a wet Wednesday in Stoke, so Barrett surely can show the best of his talents on a sodden Saturday at Twickenham or the Aviva Stadium. But as the Springboks showed, as did the Lions last year, he is fallible when put under intense pressure.
They do have a mighty scrum â€" it did not go unnoticed that Nos 1-5 in Yokohama were all from the Crusaders â€" and in Ardie Savea quite possibly the form openside in the world. The best chance that England and more likely Ireland have of overcoming New Zealand is to be in touching distance with 20 minutes to go and squeeze that little bit harder. For the All Blacks so often blow teams away in the last quarter and Ireland, with or wit hout Murray, seem best equipped to avoid it happening to them.
Topics
New Zealand rugby union team
Steve Hansen
Autumn internationals
Rugby union
features
Share on Facebook
Share on Twitter
Share via Email
Share on LinkedIn
Share on Pinterest
Share on Google+
Share on WhatsApp
Share on Messenger
Source:
Google News New Zealand
|
Netizen 24 New Zealand