Sending refugees to New Zealand 'a giant magnet' to people smugglers, Ciobo says

Australian immigration and asylum Sending refugees to New Zealand 'a giant magnet' to people smugglers, Ciobo says
Defence industry minister says he 'absolutely' has a problem with accepting NZ offer to resettle families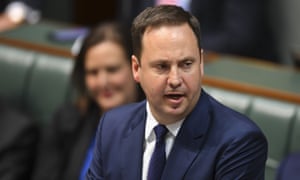 Sending refugees from Nauru to New Zealand would be a "giant magnet" for people smugglers, the Australian defence industry minister, Steven Ciobo, has said.
The government intends to evacuate all asylum seeker and refugee children from Nauru by the end of this year.
But Ciobo said he "absolutely" had a problem with any plan to accept New Zealand's offer to resettle some of the refugee families.
The idea of New Zealand resettlement was floated by the prime minister, Scott Morrison, during the Wentworth byelection, but the Coalition reversed its support after Labor agreed to negotiate.
"They think it's more humanitarian, they think it's more humane. The only thing that Labor's soft approach is going to do is restart the trade of people smugglers in our region," Ciobo told Sky News on Sunday.
The Coalition is right to remove children from Nauru â€" but there's very little to celebrate | Katharine Murphy Read more
"That's going to be a giant magnet for those that want to come to our country ahead of those that are sitting, unfortunately, in UNHCR camps trying to do the right thing.
"I think that would be a great injustice to those who actually are deserving to come to countries like Australia, the United States or other countries, but who can't afford to pay a people smuggler."
The Coalition had indicated it would only accept New Zealand's offer on the condition refugees sent there from offshore detention were banned from ever entering Australia.
Labor indicated it would support the lifetime ban in the interests of getting people out of offshore detention, but the home affairs minister Peter Dutton has been reluctant to seal the deal. He argues it could become an incentive for people smugglers.
Topics
Australian immigration and asylum
New Zealand
Asia Pacific
Migration
Australian politics
Refugees
news
Share on Facebook
Share on Twitter
Share via Email
Share on LinkedIn
Share on Pinterest
Share on Google+
Share on WhatsApp
Share on Messenger
Source:
Google News New Zealand
|
Netizen 24 New Zealand